Where? Smack dab in the middle of 24th street over at Wynwood Cigar Factory, located at 101 NW 24th Street, Miami, Florida 33127. Going on December 6 – 9, 2 – 11 pm.
What went down: The Basel Biergarten is a chill spot that blends in some of the best elements of Basel: stupendous art, good drinks, and fantastic music throughout the night. The Wynwood Cigar Factory has been completely transformed to feel like a backyard bar with an amazing gallery annexed to it. The bar itself features some of Florida's best beers, staying true to their 'drink like a local' campaign. Beers from Cigar City Brewing, Inlet Brewing, and local restaurant Michael's Genuine very own home brew were on draft, with speciality beers being offered throughout the day. The pop up biergarten also featured two food trucks, and a double decker bus with a DJ spinning atop the second story of the bus.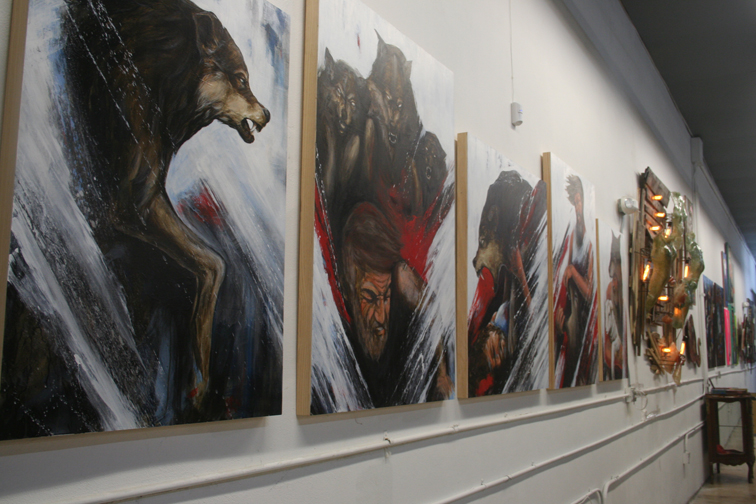 While we were there: Local artist/humanitarian collective Evoca1 had a stand set up showcasing their art – plus their amazing t-shirts. Their most notable piece includes a homeless man holding a sign saying 'Respect Human Values', which highlights how their art sheds light on the issues facing the community at large. They are also known for their campaign, 'sketches for mankind'. We got a chance to chat with Elio Mercado of Evoca1 about his experiences at Basel so far…
Wasabi Fashion Kult: What's your must-have Basel accessory?
Evoca1: My phone & my hat.
WFK: What's your favorite spot to go after an event?
E: Wood.
WFK: Drink of choice?
E: Cabernet
WFK: What's the craziest thing you've seen at Basel so far?
E: Half naked chicks…like underwear for clothes, pretty much.
WFK: What's your favorite hype song?
E: Wood Kid – Iron