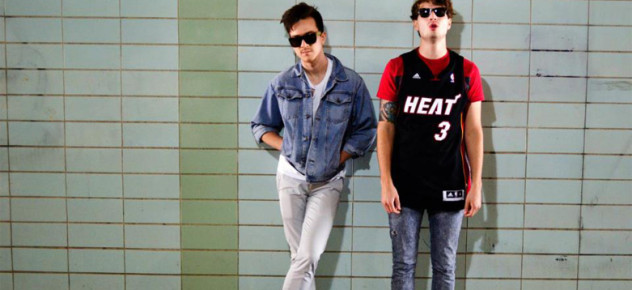 Deaf Poets is a band comprised of Nicolas Espinosa and Sean Wouters, who tout themselves as a group with a 'PBR soaked sound' hailing from Miami Beach.
The duo blends in grungy, garage rock sounds with 80s sensibilities. Their shows are noted for very high energy performances, mixing in cover songs along with their original music during their sets, yet still maintaining the accessibility factor of a jam band. With a steady stream of shows coming up and a full length album in the works, the guys from Deaf Poets had plenty to chat about:
You recently performed at block x blog. What other shows do you have coming up next?
Sean: We have a few shows coming up this month. We have a free show at Churchill's Pub on May 10th with Arboles Libres, now known as Eagle Chief. The following day, we are performing at Blackbird Ordinary, and lastly a show May 25th at Sweat Records with some Boston friends and past Floridians.
What is the creative process like between both of you? Are there certain elements that each of you consistently bring into the mix?
Nicolas: We are usually right next to each other during the creative process, includes lyrics, melodies, song structure and more. During the writing process, we sometimes begin with Sean having a complete song written and we just add drums and examine the structure and melody. A lot of our songs however have developed during jam sessions. Sean usually bring the grungy, distorted guitar sound while incorporating melodic, yet aggressive vocals. I usually stay aggressive with my drumming and keep it as simple as possible in order to compliment the song.
You have a full length album coming out this year. What can fans expect on this album that may be different from some of the songs you have been performing around town?
Sean: Well definitely the album will [be] cleaner, with more production. We do everything we can on stage to show off the energetic & intimate sides of each song and we want to translate that for our full length [album]. The full length won't lack any sort of energy, its going to be fast, slow, and catchy. Expect different instrumentations for flavor and a couple surprises for suspense.
Your group has been able to perform a series of clubs, venues around the city. How do you feel the recent expansion of music based venues in different areas of Miami has impacted the local music scene?
Nicolas: The way Miami venues are expanding gives a steady push into growing a music scene. We begin to see more bands making their way down to Miami. The number of suitable venues [is] still very small, but every new venue gives bands like us an opportunity to share our music.
What are some of the groups you are currently listening to?
Sean: Tame Impala, Melody's Echo Chamber, Beck, Suns, and The Ramones.
Nicolas: Kanye West, Jay – Z, Girls, Jeff the Brotherhood, Two Door Cinema Club, and fun.

Your social media game is on point, notably your Instagram and Facebook page. Why do you feel it's so important to reach out to fans on these platforms?
Sean: Not only does it help fans stay updated with what's going on, it also helps us reach potential new ones. Its the best and easiest way to promote a band.
Nicolas: Social media has expanded so much that it makes it easier to reach a worldwide market. I also like the tools to really show people a side of us that might not be properly translated during our live performances. We are truly just two young dudes who treat each other like brothers and we want to show that playful side of us.
Originally published on May 7, 2013 for Latin Beats.