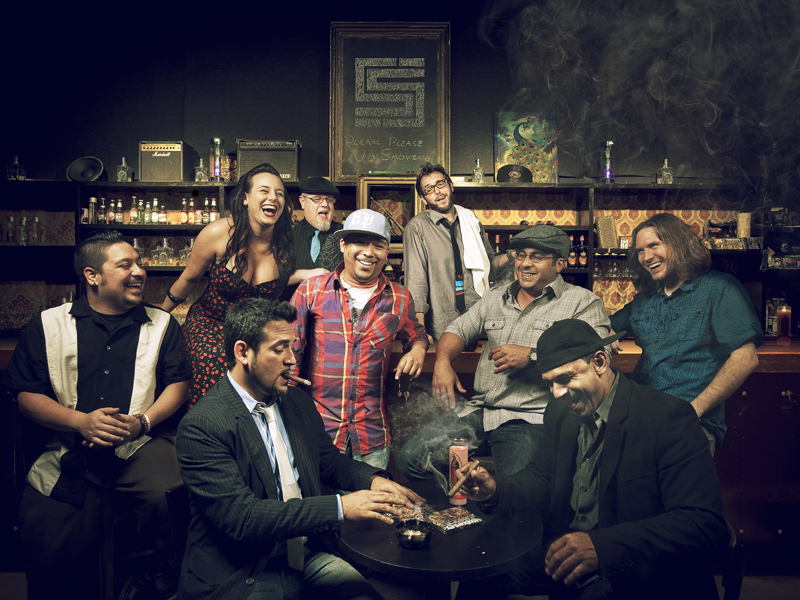 Miami group Suénalo! has been performing all over the city for a decade now, and have released three albums so far. The nine piece group has a distinct sound, due to the slew of influences each member brings into the mix. Between them, they boast bringing in Caribbean beats, Colombian cumbia sounds, and smooth Funk vibes. They reflect all the sounds that can be found here in Miami's street, and make something they describe as "Afro-Latin-Baby-Makin'-Descarga-Funk." With a new album coming out this summer, and touring plans extending into 2014, it seems the group is poised to completely take over. Before embarking on their new journey, bass player Carlos Guzman had a chance to talk about all the things coming up:
The group has an album coming out later on this year. How would you say this album is different from previous efforts?
We have taken a lot of time to record this album (almost 3 years) so we've put a lot of time in making sure the sound quality if high, the arrangements are tighter, and the songwriting is better. Since our last album, which was live, there has been some personnel changes. We now have Michelle Forman, our female vocalist, back in the group (she was part of the our first studio album, but skipped the live album) and her vocals and harmonies now enrich our sound greatly. We also have keyboardist, vocalist and composer Adrian Gonzalez in the group now, and he has put a great deal of himself in the recording, from his playing to contributing four songs in the album, which he also sings.
What's the most important thing you hope listeners take from your music?
The diversity, which is one of our most unique elements, but also our weakness, because we can be hard to market. The industry doesn't like bands or artists that mix too many styles, they like to label artists with one genre. We also want listeners to get a flavor of Miami through our music, because that diversity in a way is a reflection of what Miami is. We have two songs that are directly dedicated to Miami, "305," and "MIA."
What were some of the albums you were really into it while you were writing the music for the upcoming album?
Having nine members you can imagine the incredible amount of influences we each bring to the table. As a collective, and I think we all enjoy afrobeat, afro Cuban, jazz, reggae, Caribbean hip-hop, and funk, and all the classic artists who represent those styles: James Brown, Fela Kuti, Bob Marley, Irakere, Fania Allstars, MosDef, The Roots, Talib Kwelib . . . Those who define the styles. We are not much into "new" influences or styles, because there really isn't anything new anymore, is just rehashing old styles and formulas and giving them a current sound. We strive to write timeless music and melodies and lyrics that can last forever.
The band was been touring a lot around Miami. What has been one of the best things you've seen happen at your show?
We love to see people sing our songs, and we love to see people get up and dance, being old fans or a totally new audience. We really like to see strangers get up, smile, and start dancing. Talking about incredible things, more than once we have had guys propose to their fiances on stage during our shows, in front of a hundreds of people.
Between all of the band members from different places, your sound has a little bit of everything. What's been the best thing you've been introduced to by a fellow band member?
We definitely try to push our own music agenda on each other. Amin, our frontman and MC is always sending us e-mails with what's going on that's good, especially in the hip-hop world. Chad, our trombone player is always sending us the baddest funk he can find. And it goes on. We send YouTube links to each other all the time. We've been together so long that it's hard to point out a single great thing we have shared with each other. I know we recently all fell head over heels for pianist Robert Glasper and his band. It's the new jazz: a real, contemporary, and meaningful evolution of jazz.
Catch Suénalo! this weekend at PAX, or April 5 at The Stage.
Originally published on April 3, 2013 on Latin Beats.