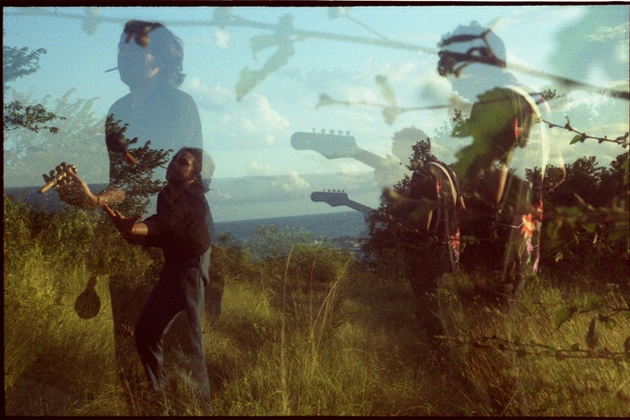 2012 may be winding down, but the year is closing out with new releases from established artists and a couple of bands on the rise. The Weeknd, known for the multiple mix tapes he released for free, drops his debut effort 'Trilogy', which is a compilation of all his songs plus three new songs. Also releasing debut efforts are Fantasmes, with 'Redness Moon' and 'Father' from Miami group Arboles Libres. On the other end of the spectrum, Crystal Castles just released their third album, 'III', which features a maturation of their sound in comparison to their previous efforts. Toro y Moi, who's third album will be released in early 2013, released a brand new single 'So many details' off the upcoming album, entitled 'Anything in Return'.
Fantasmes is comprised of two friends: Mario Negron and Dario Morales, who hail from Puerto Rico. The band met back in High School and bonded over a mutual musical interests, leading to the release of their first EP: 'The Reveller'. Despite a brief hiatus, the band reunited to release their second EP 'Redgold/Sidetracked' in 2010.  Now, after secluding themselves off in a home built studio in Puerto Rico, they released their debut album, 'Redness Moon'.
We caught up with Mario + Dario of Fantasmes to chat about their album:
Wasabi Fashion Kult: Your sound derives a lot of influence from the 60s era. What is it about that era that speaks to you?
Fantasmes: Oh my God… I think it has a lot to do with family. That's the music I grew up with because of my Dad. The most appealing thing is the sense of freedom and newness of the decade, that you can try anything, not really constricted to any rules. It's almost introspective. Of course, there's also the counter culture element. Being from the Caribbean, it's a very alien thing to us in a sense to our Caribbean past [as] it has nothing to do with it. It's a very mystical thing that we enjoy.
WFK: There are a lot of different techniques used in your sound apart from instruments, including tape manipulation & some of the older recording techniques. What is about that style that intrigues you?
F: Besides the graininess of a record using old equipment, there's this whole idea [that] if you really want to explore music it becomes a very physical, ethereal thing. It becomes a material you could sculpt you can twist and make into your own image. There is the limitation of your equipment, especially tape. It's something about how restrictive tape can be that can be very liberating. It started out with an old tape out of necessity, but we still go back to the four track tape machine because it's the sound we like. There's [also] the nostalgia, but we never want to let that first love go. Some of this equipment got outdated too fast.
WFK: This is your debut LP, a big accomplishment for any artist. What songs from this album do you feel really define your sound as band?
F: 'Tell me nothing is wrong' is what started everything – where everything started and where everything went. Everything was recorded around that track. But, each song represents a facet of our song writing ability and what we concentrate on. All songs are composed to serve a purpose. The album as a whole work represents Fantasmes. Also the title track is very representative of the mythical aspects and shows some spiritual ideas.
WFK: For the listener, what are the main themes you want the listener to focus on?
F: We composed an album with the idea of slowing down and listening. Records don't come out now for people to listen to them. We wanted to make a record to sit and listen to it, [and] the bigger purpose – to listen and observe everything that surrounds them. The aural experience of the record is repetitive, fulfilling; but there's also the structure behind it, the narrative. There are themes present in the album, and elements exploring our lives and the traumas of the moment: breaks ups, anti-authoritative ideas, gender/sexual issues, [and] being a sexual being. But we can't tell you that the record is only about that, but we try in some ways [to] have it be more than that; not ambiguous or have it not mean anything, but take it to a point that's more abstract. We tried to convey an aural experience that deals with the experience, the solace of creating music. You have some music that's more direct. The aural experience is more important than the narrative. The aural experiences have repetition, excess through minimalism, and then growing bigger & bigger. We ask a lot of questions of the album: to each other, to ourselves. It's a question riddled album.
WFK: You show off a lot of the artwork and process behind the music on your blog. Why do you feel it's important to show that to fans?
F: I don't think we're giving anything away, but at the same time we enjoy giving little gifts of love, that we intend to share it (the album), and give them the full experience. The process for us is very important. We skipped the normal studio and built our own 'perfect' home studio where we worked for four months, growing through our own time. The craftsmanship aspect is very big to us, we're doing this out of love & necessity; we can't stop making music and art. We want to make it more human; organic to stress that this is a very human process. A process with a lot of mistakes – coffee stains, cigarette burns – it's not a product; we're not a factory. That piece of paper that holds the whole spirit of the song, we put our whole selves into. This was a very intense process during a stressful year – [a] hard moment in our lives. We managed to pull it off and make the best record we've made, as a duo and as a person.
Enjoy Fantasmes and all the new albums you should be listening to this month. Don't forget to stream or download! 
Mario Negron and Dario Morales are the forces behind Fantasmes, who released Redness Moon earlier this year. The duo concentrated heavily on different type of recording techniques for this album, which was recorded in their studio that they built in Puerto Rico. This experimentation has led to an album full of surprises, ranging from darker, grittier sounds as heard on the title track 'Redness Moon', to sweeping, psychedelic sounds as heard with 'Monsters Mother'. Their songwriting is showcased on slower songs, such as 'Dance in the Shadow'. The band showcases their ability to invoke influences of eras past, while bringing in elements of modern recording technology on their second album, Redness Moon. Stream tracks from the album here.
Continuing with the all-out aural assault on listeners hormones, The Weeknd has released his first full length album, 'Trilogy'. While most of the tracks featured on 'Trilogy' have been released already over the course of his three mix tapes – House of Balloons, Thursday, andEchoes of Silence – most have been remastered for the album version. Three new tracks have been included on the triple disk set, starting with the lead single 'Wicked Games'.  The other two tracks, 'Twenty Eight' and add more of the same lyrical motif about loneliness versus vapid attractions. While established Weeknd fans may be expecting more of the same with this release, 'Trilogy' features solid new tracks, as well as updated tweaks to already well known favorites. Stream the album here.

Anything in Return| Toro y Moi
If the first single off Toro y Moi's upcoming album 'Anything in Return' is a sample of what's to come, the producer/songwriter seems to have taken a less chillwave approach, and shifted towards using more funk elements. While Chaz Bundick – aka Toro y Moi – has been known to mix together a numerous genres, his previous work had a more rigid electronic vibe. This first single not only showcases his voice more prominently, the song also shows a softer, funkier vibe. The album is due out on January 22, at which point he will be kicking off a tour with Wild Belle. Stream the first single, 'So many details',here.
Miami trio Arboles Libres are known for their shows around their cities, and recently released their album Father. The album kicks off with a cacophony of sounds on the first track 'Hey Man', which then eases into the rest of the track that features an indie rock vibe. Starting with the second track, 'Feline Gamma', the rest of the album features songs in both English and Spanish, as well as the distinct folk, indie rock sounds that Arboles Libres is known for. 'Caroline' features a blues vibe that stands apart from the rest of the album, as it features a catchy chorus – even a line saying 'Sweet Caroline', minus the sing along – and shows a range in the bands talent. The entire album highlights the talent the band has, as well as their ability to include a variety of genres to create their own distinct sound. Stream or download their album here.
Crystal Castles returns with 'III', their aptly titled third album. The album features most of the electronic sounds that most fans are accustomed to hearing – however, with 'III', they venture into a darker venue with their sound. The starting track, 'Plague', kicks off this vibe, with vocalist Alice Glass yelling 'I am the plague!' then quietly singing, 'I need you pure, I need you clean'. Most of the tracks on this album also feature Glass pushing her vocal ability more, with more high pitched yells layered over equally high pitched synths, adding a sense of urgency to many of the tracks. While the majority of the album features darkly haunting lyrics paired with a myriad of vocal styles, it finishes with the softly sweet track 'Child I will hurt you'. Overall, the album shows a darker edge to their sound and a growth from their previous work. Stream the album here.