New Orleans has felt like a dreamy blur, from start to finish. 
In the six weeks I've been here, I celebrated my first Mardi Gras, started a new job, and experienced New Orleans as an adult. Before moving here, the only other time I was here was when I was in elementary school – and I vaguely remember it. 
Since I arrived, it's been a non-stop exploration of different neighborhoods and trying out all kinds of Cajun cooking. I did some stereotypical touristy things, including the vampire walking tours in French Quarter; I also got a tarot reading done at a witchcraft shop. I saw the bayou at Jean Lafitte State Park. I had beignets at Cafe du Monde. I met new people through mutual friends or talking to other solo travelers on the walking tours. 
Now, as I start to pack up, I find myself wishing I had checked out a few other places – but I've grown to really love this city, and I know I'll be back sooner than later. 
_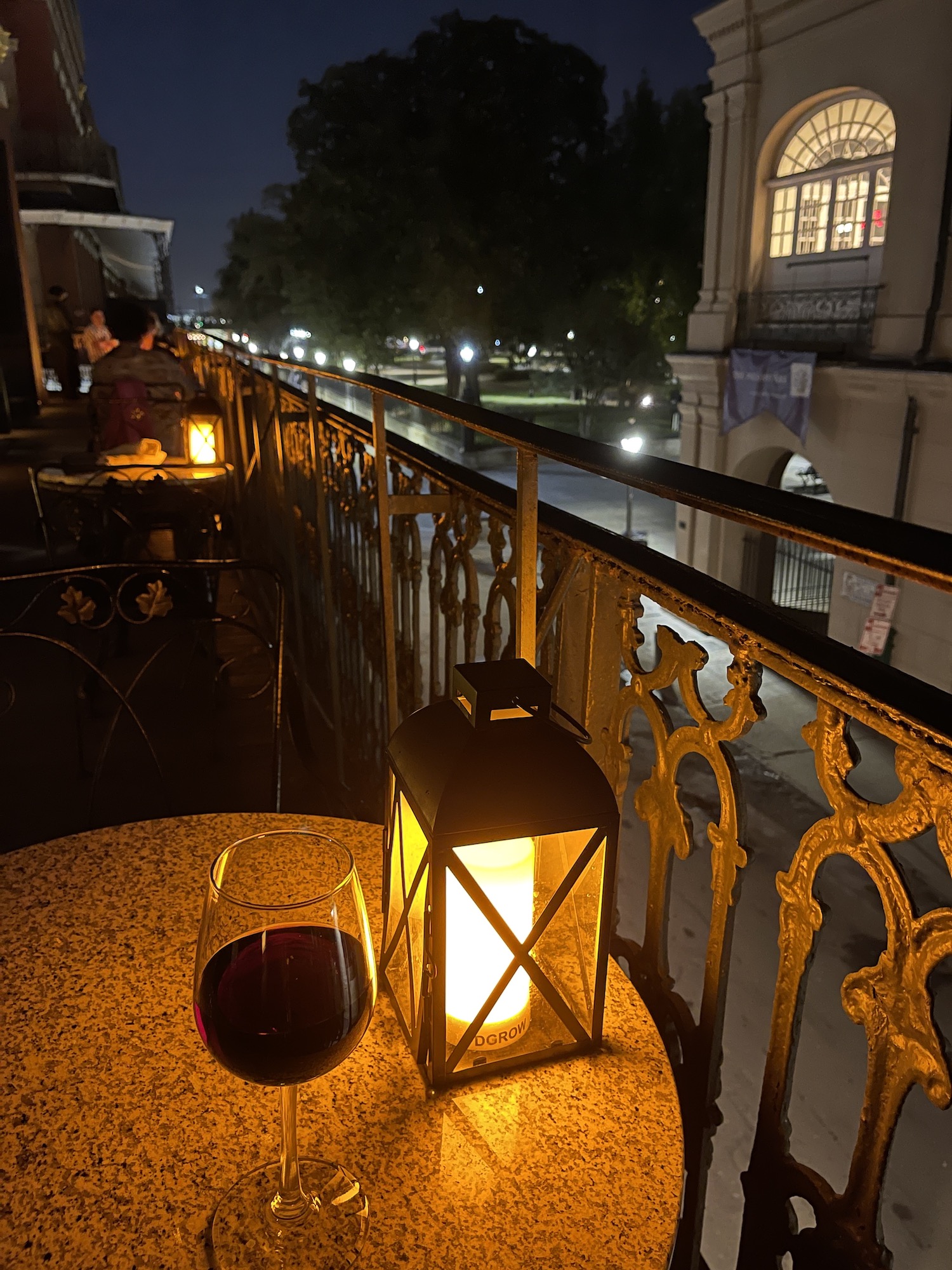 A few weeks ago, I took myself out on a Friday night in the French Quarter to celebrate wrapping up my first week at the new job. I sat on the balcony of Muriel's with a glass of wine, watching the slow trickle of tourists walking below me. 
While I was sitting there, it finally struck me that I was here – really here. Not just for a weekend trip, but that I had been living in the city for an entire month. All of the changes that had occurred – from deciding to come to this city, to moving away from Florida for the first time, leaving my old job – they all felt like the right moves to make. 
Despite the disaster that was 2020, it propelled me forward to this point. Making the first shift prompted all of these other changes, which lead me here: sitting on this balcony, enjoying a mild wine buzz, people watching while a trumpet player in Jackson Square played 'All of Me' by Ella Fitzgerald. It was the first time I had really stopped to simply admire the city, and also allowed myself to really savor the moment I was in. 
I felt so incredibly grateful to be where I was. 
–
Mardi Gras wasn't canceled this year, but it certainly felt different. 
The parades were not allowed to do their usual routes, and most of the city was on lockdown from the Friday before up to Fat Tuesday.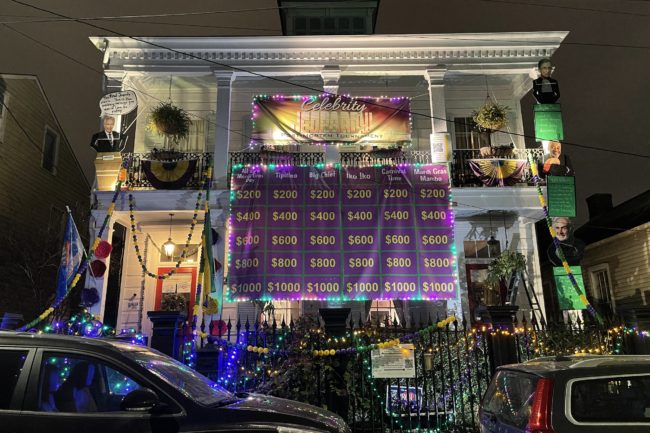 Although I didn't get to see the parades, I did get to see the house floats up and down St. Charles Avenue. A neighbor around my block hired a three-piece band to play on her porch and the neighborhood came out to watch them play. COVID may have canceled the parades but the city still seemed to have a buzz. Seeing all of the houses decorated felt like Christmas almost, and I felt festive for most of February. 
I got to partake in some of the traditions, starting with king cake. Typically only available from early January until Mardi Gras, king cake is a big deal, and locals kept referring me to different places to try out 'the best King Cake in New Orleans'. Most of the places I tried were sold out, but I definitely stood in line in 40° weather for a chantilly and berries king cake from Bywater Bakery and it was 100% worth it.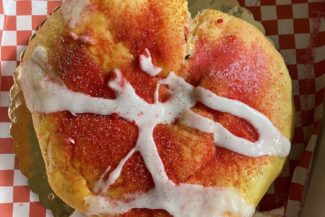 I also showed up during one of the fiercest cold snaps the city has ever seen. This year's Mardi Gras was the second coldest ever, and I was completely unprepared.
The night before the cold snap hit, my landlord Miss Cathy texted me and asked me to open all the cabinet doors, run a small stream of water in the sink, and wrap a towel around the outside faucet. I read her text a few times, in a mild panic – wrap the what? 
Mildly embarrassed, I texted back: "Sorry, I'm from Miami and I've never experienced this before." 
Before I left, I had brought a few things and felt prepared to tackle a lot – but preventing a potential pipe burst due to freezing temperatures on my own wasn't what I expected. While I had experienced cold weather when visiting family in Toronto, I was never responsible for anything while I was there. 
I did end up finding the faucet outside, wrapped it, and also left the water running. The pipes didn't burst. Also, all my friends who have lived in cold weather definitely had a good laugh at my expense when I told them I didn't know what sleet actually was. 
I asked for adventure, and I certainly got it. 
–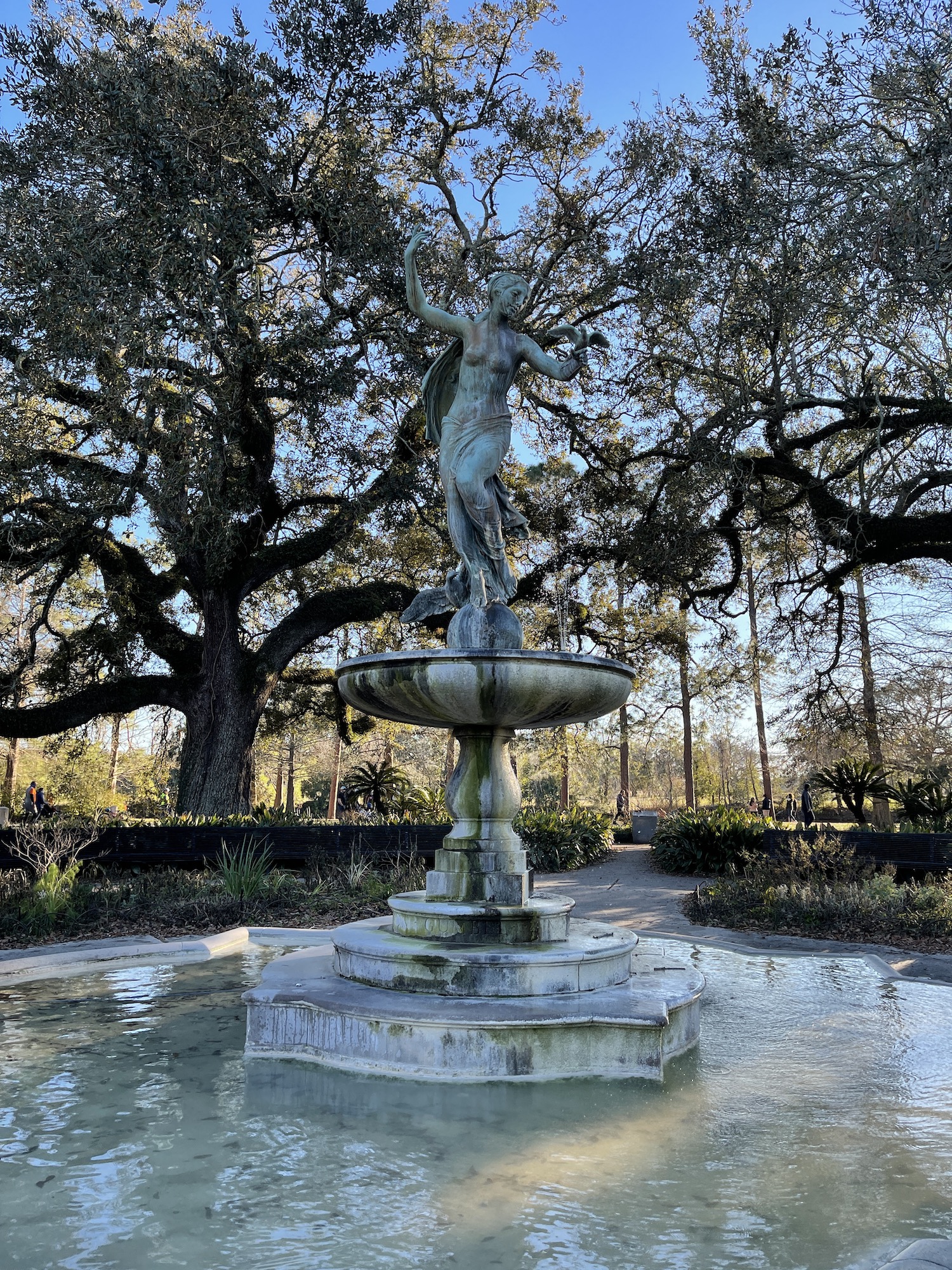 I've already started to pack my things to prepare for the next city. While I'm excited to go, I'm definitely going to miss parts of New Orleans. 
I'll miss walking down Magazine street on a sunny afternoon, popping into the vintage stores, or grabbing a beignet from The Vintage. 
I'll miss the spicy cheesy grits Miss Cathy made when she invited me over for brunch. 
I'll miss walking around French Quarter listening to ghost stories with an absinthe cocktail in my hand. 
I'll definitely miss all the food – I don't think I've had a single bad meal here. 
I'll miss hearing the jazz music playing while walking down Royal street. 
I'll miss strolling through Audubon Park and seeing all the oak trees create a canopy over the sidewalk. 
I didn't expect to love this city as much as I did, and I definitely see myself coming back here post-pandemic. 
Until then, it's time to pack up and get ready for my next city: Austin, TX.